Geheimen die eigenlijk niet publiek zijn. Google gebruikt geen clickdata. Tenminste in de SERPs. Wel uit Google Chrome natuurlijk. Voor bijvoorbeeld het bekijken van je websitesnelheid. Of dat een site wel zo populair is als het linkprofiel doet lijken.
Nou, de kat is uit de zak. Want als je voor de rechter staat (of je oud personeel daarvoor gevraagd wordt), dan moet je eerlijk antwoord geven.
En dat deed Eric Lehman dan ook.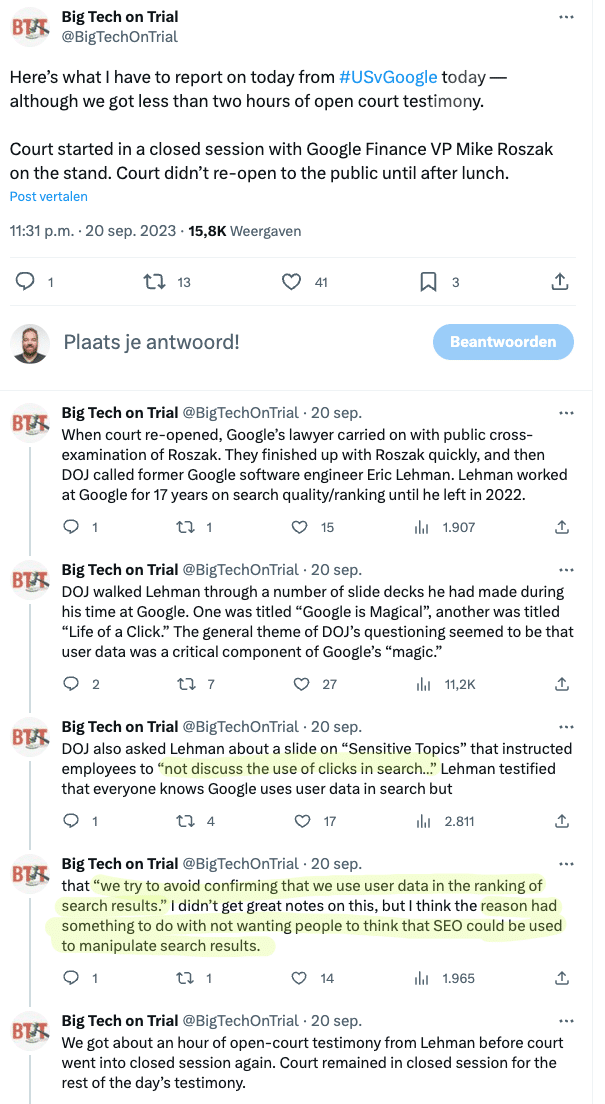 "Pretty much everyone knows we're using clicks in rankings. That's the debate: 'Why are you trying to obscure this issue if everyone knows?'"

Eric Lehman
Dat citaat komt van Eric Lehman, een voormalige 17-jarige werknemer van Google die als software-ingenieur werkte aan Search Quality en ranking. Hij verliet Google in november.
Niets nieuws, maar een beetje bevestiging is best fijn.
Photo by Henrik Dønnestad on Unsplash
Was dit artikel behulpzaam?
Bedankt voor je feedback!
Dit artikel: Publieke geheimen van Google verscheen het eerst op chapter42.com.
Lees het originele artikel op Chapter42.nl